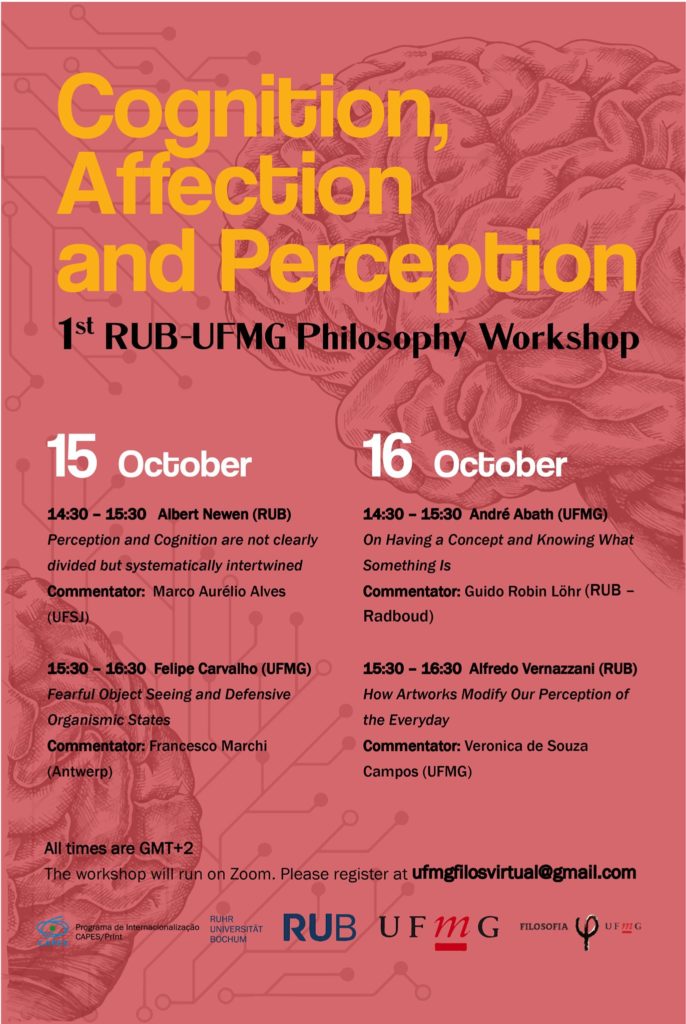 Description:
Our minds possess the capacity to perceive our surroundings (visually, acoustically, etc.), but also the capacity to think and cognize, and the capacity to feel and being emotionally affected. An interesting and much-debated question is how perception and cognition interact. Does cognition penetrate and alter our perceptual uptake of the environment? And if yes, how? Beside cognitive penetration, there is an intriguing and much-less discussed question of whether affective and emotional states pentrate and alter our perceptual experience.

Such questions constitute the main topics of the 1st RUB-UFMG Philosophy workshop. Philosophers from the Ruhr-Universität Bochum and from the Universidade Federal de Minas Gerais will discuss and comment each others works.
Schedule:
14:30 – 15:30 Albert Newen (RUB) – Perception and Cognition Are Not Clearly Divided but Systematically Intertwined
Commentator: Marco Aurélio Alves (UFSJ)
15:30 – 16:30 Felipe Carvalho (UFMG) – Fearful Object Seeing and Defensive Organismic States
Commentator: Francesco Marchi (Antwerp)
14:30 – 15:30 André Abath (UFMG) – On Having a Concept and Knowing What Something Is
Commentator: Guido Robin Löhr (RUB – Radboud)
15:30 – 16:30 Alfredo Vernazzani (RUB) – How Artworks Modify Our Perception of the Everyday
Commentator: Veronica de Souza Campos (UFMG)

All times are CET!


Where?
The workshop will run on Zoom.
Login information: https://ruhr-uni-bochum.zoom.us/j/93454573230?pwd=N2pXalEvV2JYbEpDaVp1eXVRQWtxdz09 (password 219732).